By Stan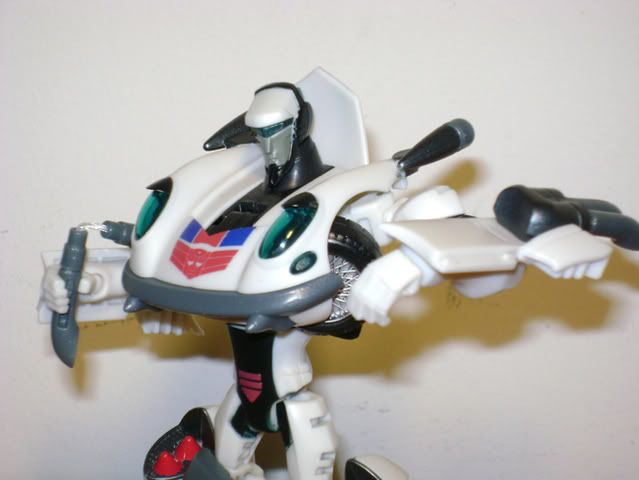 'Right now, we need to stop fighting each other and start fighting the bad guy. Dig?'
In honor of 44th President Barack Obama's inauguration, I decided to do a review in what seems to be a rather predictable move. Jazz (or Autobot Jazz) is well known for his cool personality even when under pressure. In Animated, Jazz is a member of the Elite Guard who uses nunchucks to fight. Unlike The Tick Sentinel Prime, Jazz is calm and composed. Throughout the Transformers chronicles, Jazz has always been one of fan-favorite and that's no exception in Animated series. Hasbro took notice and brought us Jazz in deluxe form.
VEHICLE MODE
Animated Jazz's vehicle mode is excellent homage to G1 Jazz's alt mode, which
was Porsche 935 Turbo. However, this time the vehicle mode took more interesting take and has been tweaked here and there. While the front looks similar to G1 alt mode (minus the headlight being higher than G1), the rear has the elevated vertical red lights, somewhat reminiscent of 1959 Cadillac El Dorado. White appears as dominant color with black windows and some grays as well as G1 red and blue stripes along the middle of car hood. The overall design is spot on to the Animated series Jazz's alt mode and there are no significant flaws to speak of. Not only is the headlights clear plastic, but every detail has been painted.
ROBOT MODE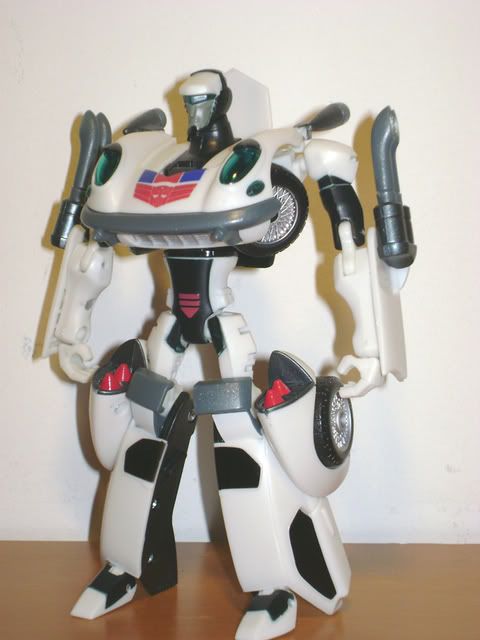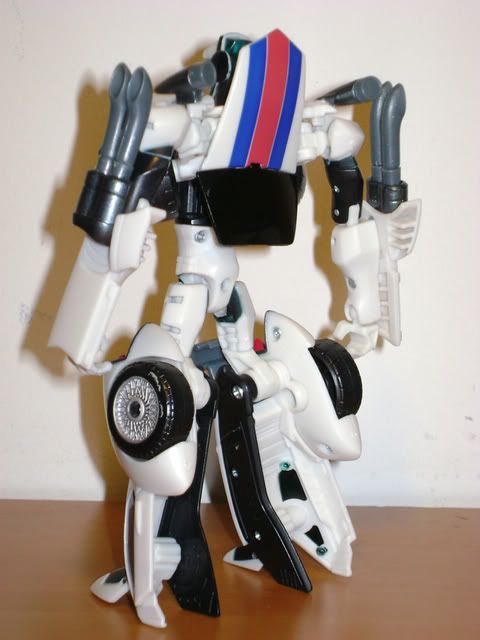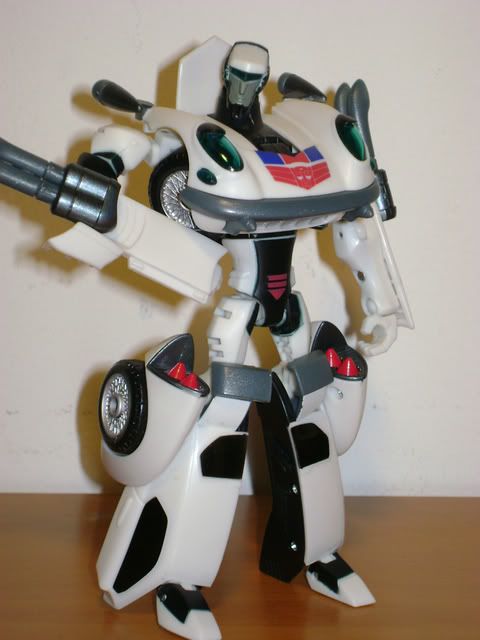 Holy Accuracy, Scatman!!
Autobot Jazz is as good as it can get. Everything is within proportion and looks solid. In robot mode, Jazz keeps the G1 motif which is front of car becoming his chest. If there is any complaint about the robot mode, Jazz's light piping eye is useless because of the panel behind his head. But again, that's quite a minimal complaint if any. His articulations are far out: his head rotates and swivels little bit, shoulders rotate and spread out, double jointed elbows, ball joint wrists and hip, waist rotates, hinge joint knees, swivel joints on below shoulders and above knees, and hinge joint feet. These provide Jazz with a great amount of articulations and this makes Jazz that much more awesome. The only limitation to his articulation is that he can't touch his hands across the chest because of his chest size, but that's by-design fault and it should not diminish the value of this figure.
Jazz comes with two nunchakus which were side exhausts in the vehicle mode. Simply take out the exhaust pipes from his elbow storage and untab the exhausts. The two exhausts are attached by string and the string attachments aren't shabby at all as they don't feel like they're about to pull off easily. This adds realism and flexibility to posing the figure. However, it's a bit unusual to put the weapon into his hand. You need to put the string part into the hand first and push the bottom nunchaku into his hole in the hand because his hands are not designed for the weapon to clip on straight. Nevertheless, they are excellent representation of his weapons.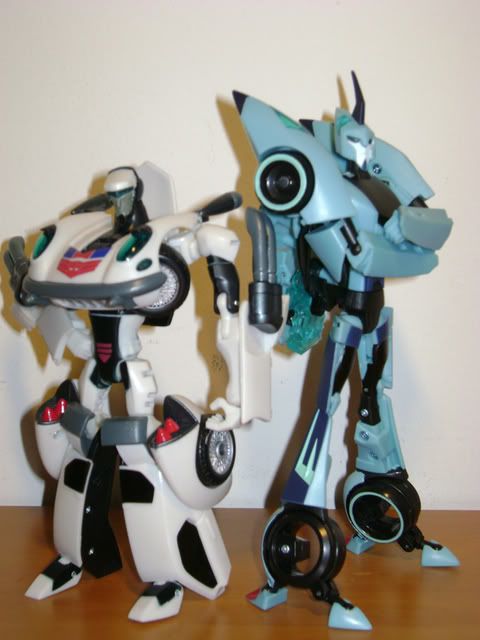 Vote Jazz/Blurr for 2016!!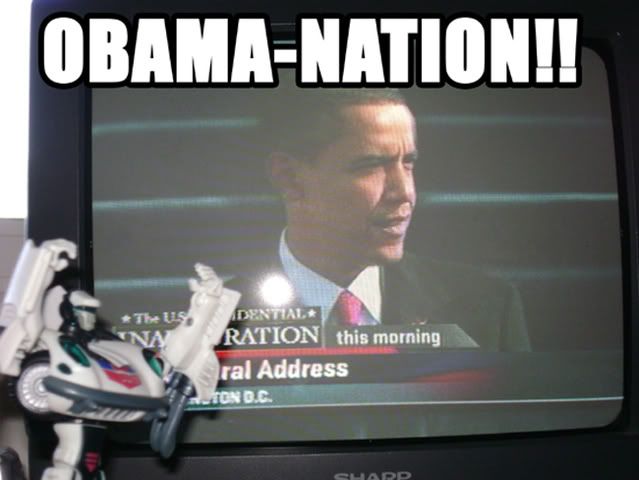 VERDICT:
5 Cyber Nunchucks out of 5
This is definitly the best out of wave 3, and maybe even best overall. Everything about this figure clicks with no huge bumps. If you're a TF:A fan, this is must-have in your collections. Cool figure like this doesn't come around that often, ya dig?
Comments
comments