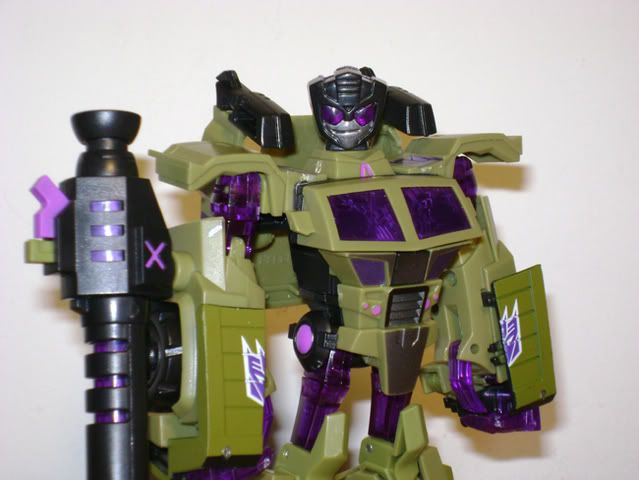 "So, do we have a deal or what?"
An intergalactic arms dealer to the core, Swindle could care less about Autobots or Decepticons as long as he gains profit from his sales. The lord of war became animated recently (SUV: Society of Ultimate Villainy) as he created EMP weapon and attempted to sell it to Megatron. Voiced by legendary Fred Willard and sporting bolo tie, Swindle comes knocking on your wallet in his deluxe figure form.
VEHICLE MODE
Swindle's vehicle mode is Hummer-esq SUV with his giant cannon attached on top. There are slight jigsaw problem Universe Ironhide had, but not as severe. Main color consists of swamp green, and some black. The black frame around front door does not help with overall appearance, and the Decepticon insignia on hood is unnecessary. The rear part of vehicle is most disappointing as it lacks any paint job. The fact that the SUV form can't roll properly is a minor issue. This is caused by bottom part having not enough clearance and touches the ground often times while rolling.
ROBOT MODE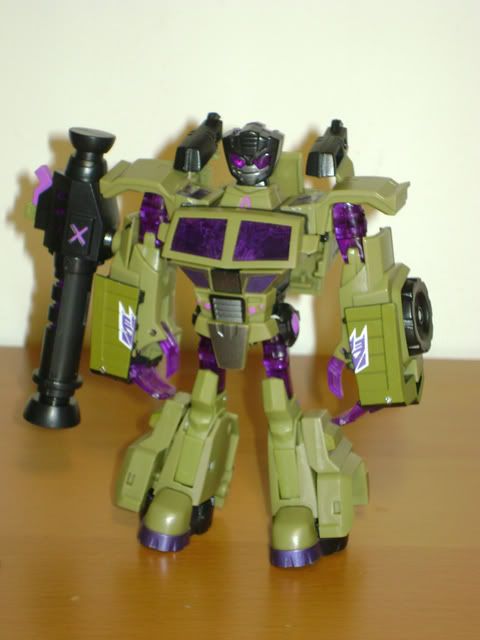 Swindle is.. Tiny. Well, this will explain better.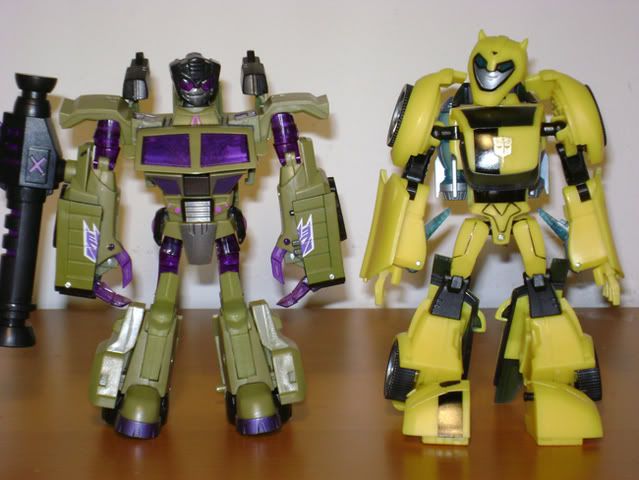 Hey, weren't you a bit
taller when we fought last time?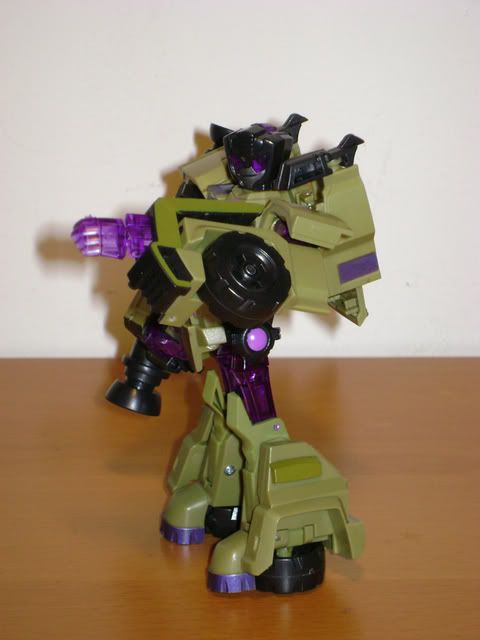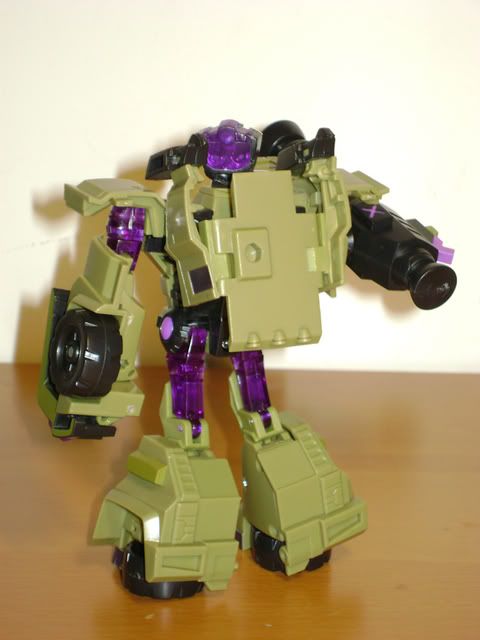 Despite the height, Swindle looks great. He doesn't suffer from disproportion Sentinel Prime has, and everything clicks appearance-wise because his arms are just as big as his legs. More purple colors appear, as his eyes, upper arms, hands and legs are purple clear plastics. Oh but if only it moved like it looked. The giant cannon can peg onto right forearm but it's slightly loose, the upper arms are two parts and (at least on mine) hard, if not impossible, to twist around. By design it should turn around easily, but for some reason
every time I tried to twist it around, it falls apart (not broken thankfully). This is most likely due to swivel peg being too big to swivel around freely and causing friction. It always feels like I'm about to break it, so at this point I decided not to tempt fate no further than I've already been doing with upper arms. Otherwise, Swindle's got good amount of articulation. Head can spin 360 degrees, arm can go around, shoulder's ball-jointed, twist at the upper arm (theoretically), elbow joints, fingers move, legs, and knees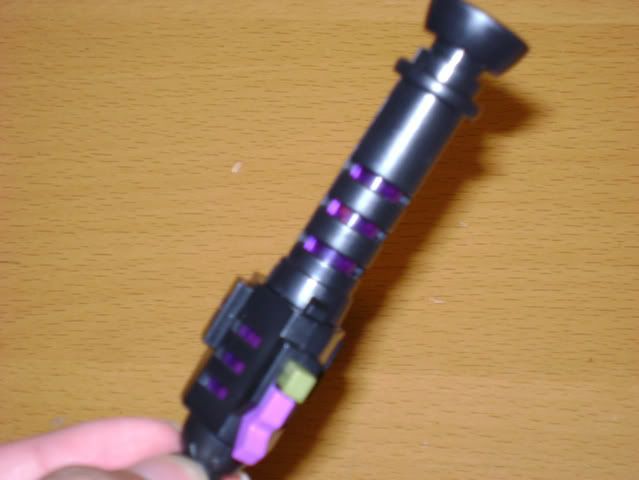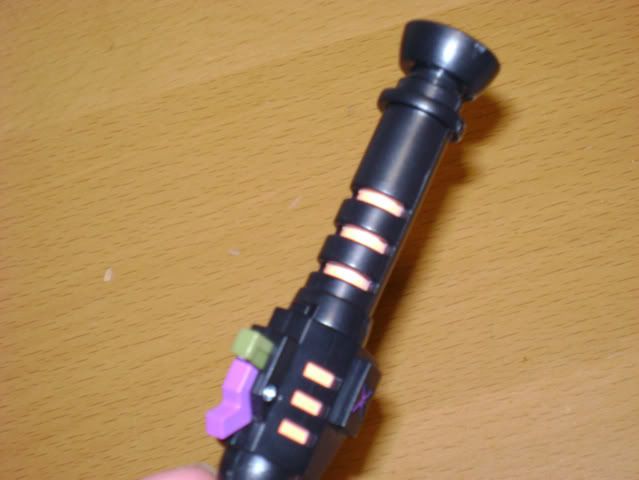 UPDATE: Swindle's giant cannon has a small gimmick. When the missile piece is inserted, the grooves on cannon changes color from clear purple to peach. Interesting gimmick, even though I don't use missile pieces at all. One nifty gimmick in robot mode is that Swindle has pop-out Gatling gun on his chest. It doesn't pop out automatically though, you have to open his abdomen and take it out. It's a nice touch based on what short amount of air time Swindle had.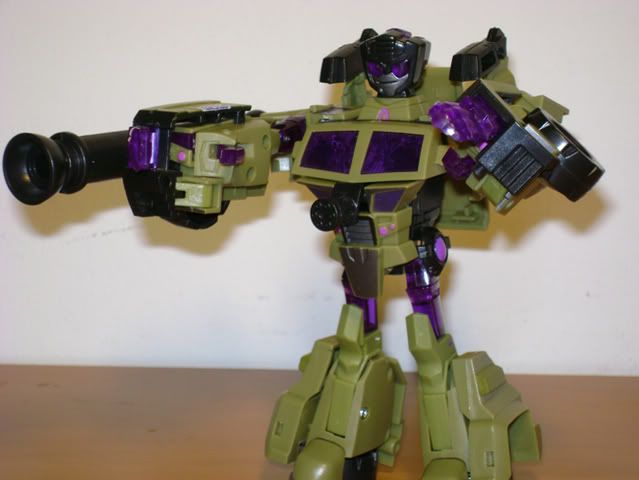 FINAL
VENT!! (Click here for reference)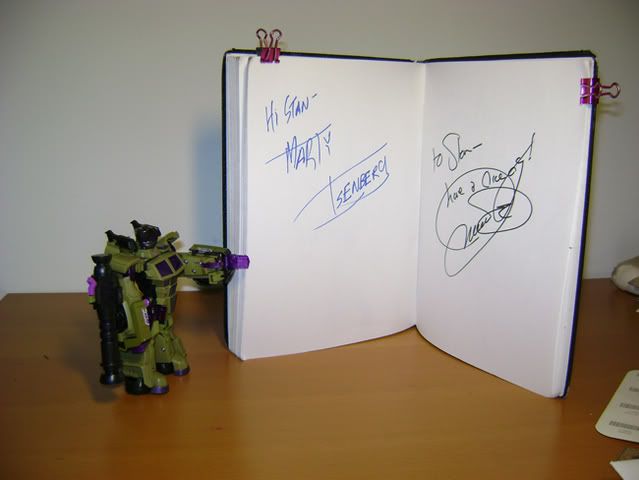 Hello and boy oh boy, do I have a great item for you today!! This right here is a sketchbook with various signatures of celebrities, including the writer of my universe. Just looking at it fills me with such excitement!! But wait! That's not all!! Call now and you also get the…
STAN: IT'S NOT FOR SALE, ASSHOLE!!!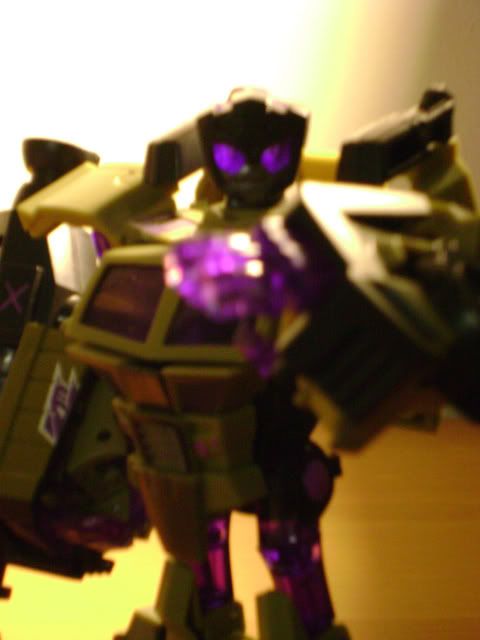 VERDICT:
3.5 Popeil's Rotisserie BBQ out of 5
Very solid figure hampered by his size, lack of detail in vehicle mode, and huge technical issues. However, due to its good overall appearance, it's still somewhat recommended to TF: Animated fandom (especially Fred Willard fans).
Comments
comments