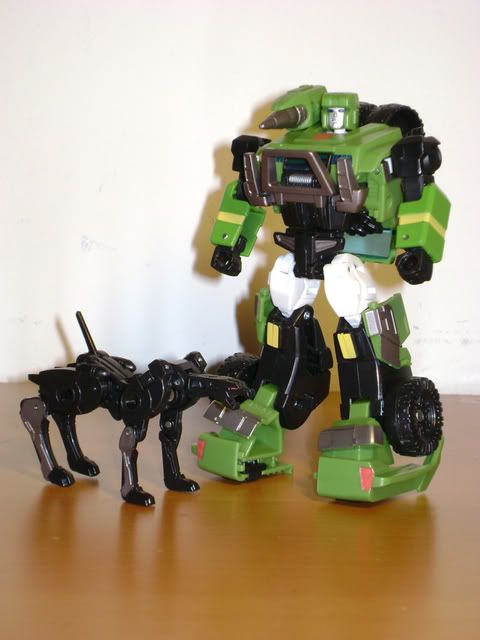 The Atuobot Scout who loved humans, Hound has been one of those characters that's been well-respected within TF community but he never got the mainstream love as much as other characters *coughBumbleBeecough*. It's been a while Hound got an action figure since Alternators, now Hound is back in Universe form…. and he brought a friend with him.
VEHICLE MODE
Much like in G1, Hound's vehicle form is Jeep but more streamlined. The Universe line continues the modernization of G1 vehicle modes and this one is no exception as the vehicle mode looks more compact and aero-dynamic than G1 version. It almost looks like mixture of Jeep Cherokee and Warthog from Halo. Olive Green appears as main color scheme, along with some silver, black and white. The Jeep mode has great details as most parts, especially head and back lights, are painted. The wheel hub caps remain black, but that's very minor issue at most. Hound can mount Ravage in cassette mode on his back in vehicle mode by two folding tabs. Speaking of Ravage, let's look at Hound's
little friend before we go on to his robot mode.
RAVAGE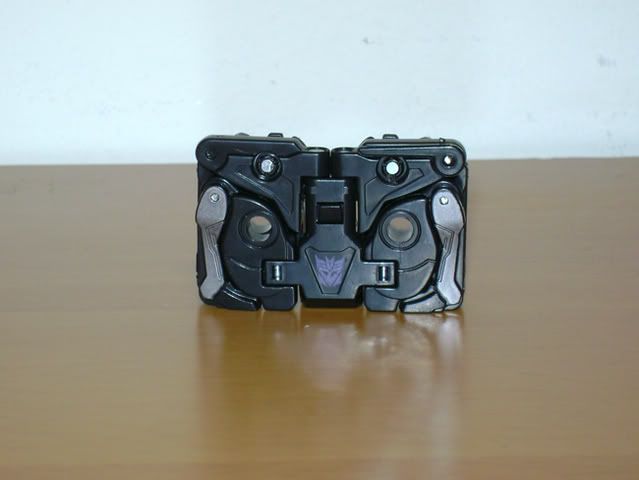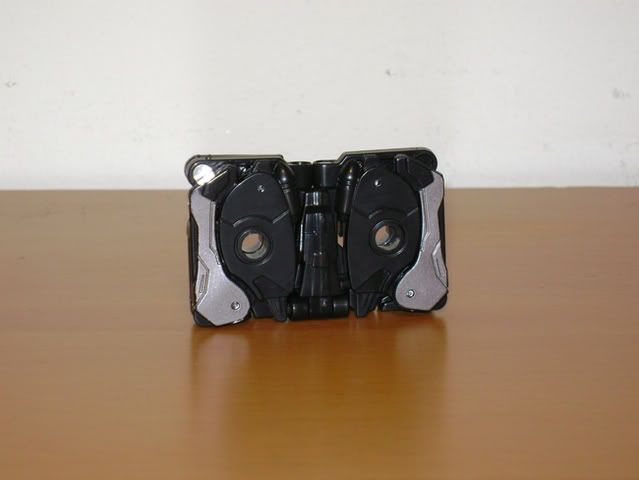 Ravage's alternate mode is cassette, faithful to G1 version. It has been said numerous times that Ravage can fit into G1 Soundwave as cassette (SEE HERE) which are very nifty touch.
RAVAGE'S ROBOT MODE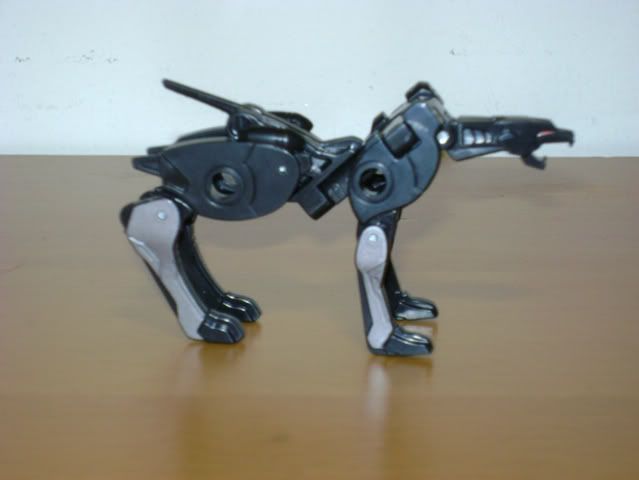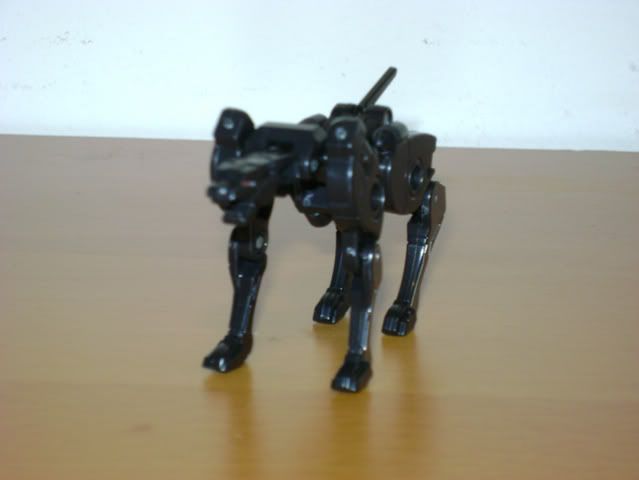 Ravage still retains the panther motif for most part. The mouth sculpting was done rather haphazardly that it looks like bird's beak. Other than that, nice rendition of Ravage. It's been also said that the G1 Ravage's rocket launcher also fits into the holes on back legs (SEE HERE, near the end).
HOUND'S ROBOT MODE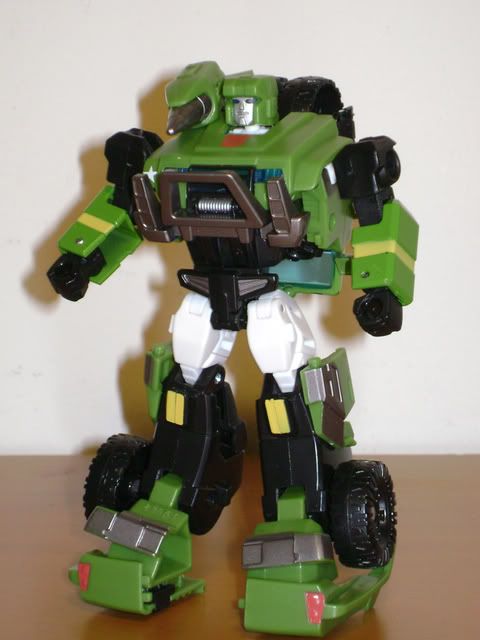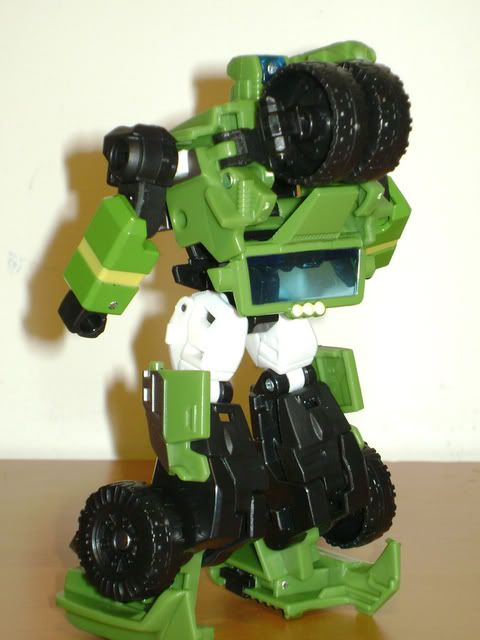 Hound's robot mode is a great tribute to its G1 predecessor. More blacks appear as well as small amount of yellow on arms and knees. Head design retains the box form and the signature front-end of car becoming chest still remains. The legs design look more dynamic and like G1, back of the Jeep becomes Hound's feet. One of great things about the robot mode is that the front tires can be arranged in several different positions. I usually fold both tires inward so that it hides gap in the back, but there are people that folded it in a
way it becomes wings. Universe Hound also comes with high pose-ability as head, shoulders, and legs are on ball joints. Also, the elbows, knees, and ankle are movable as well as feet but only by a bit. The fact that feet has joints helps posing the figure a lot. All the joints are nice with no noticeable looseness.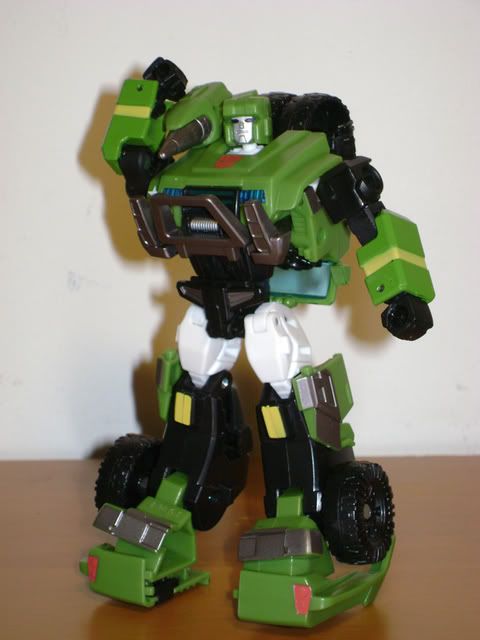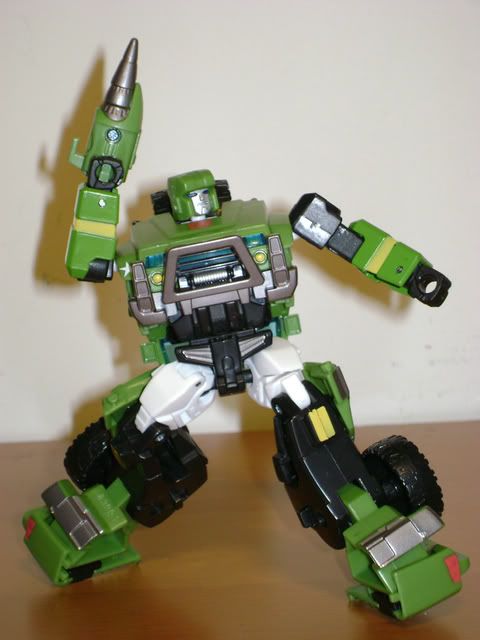 One of the main problems with Hound is that putting the hologram projector on its shoulder is very awkward. It does clip onto both side of shoulders, but it's very loose and looks very slanted towards center when attached. This makes overall appearance somewhat weird. However, Hound can hold the projector like a gun and it works fantastic.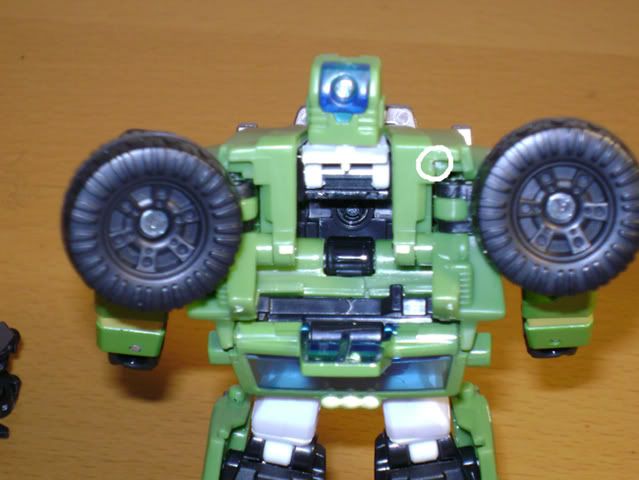 What I did was create a tiny slot on the back of Hound's shoulder area. This way, the clip part of projector can slide into the carving. Did this solve looseness of projector? not yet (I might experiment with super glue later on for stronger grip). But what it did is that it made the projector's position not so slanted as before.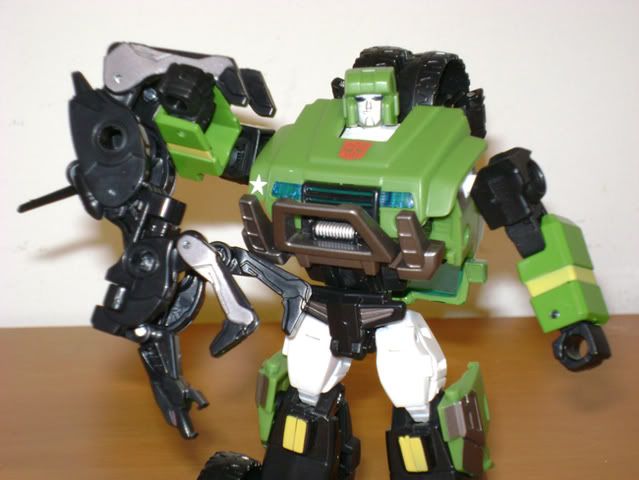 Hey Prime, look what
I found in garbage can. Can we keep him?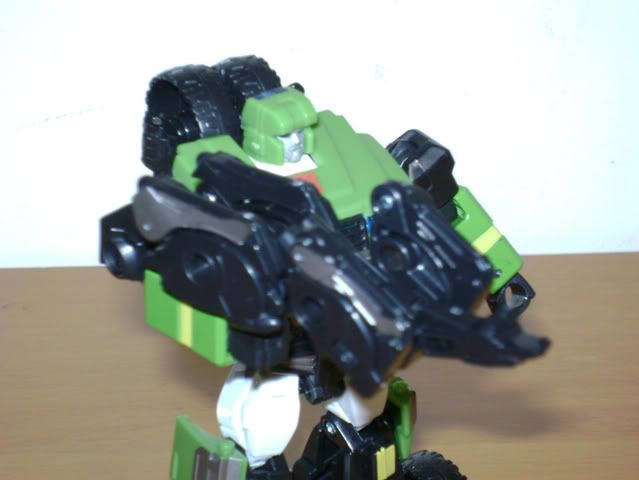 PEW! PEW PEW!!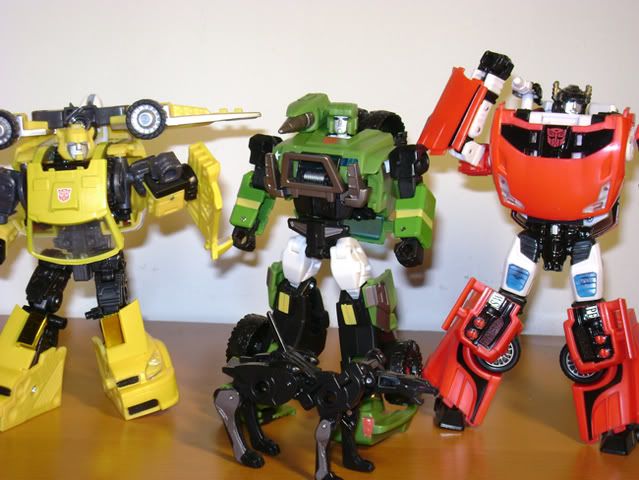 Height-wise, Hound is taller than BumbleBee by not much.
VERDICT:
4.5 Cassette Kittens out of 5
So close to perfection if it wasn't for the hologram projector on shoulder issue. But don't let that stop you from buying Hound and Ravage. With great appearance and pose-ability, These two are highly recommended for any Transformers fans out there.
Comments
comments