Hidden away in the 1000 isle, was Kaiyodo Yamaguchi/Tokusatsu Revoltech booth. It was criminally small, and all it had on display where a few main line Yamaguchi styled Revoltechs. Figures such as Date Masamune, Sanada Yukimura, Nicholas D. Wolfwood and Vash the Stampede were placed off in one corner with no figure display and just left there on the ground. Shame really, as it would have generated more traffic if they had those on display, but regardless, the main center piece of the booth was the Sci-fi Revotech series, all of the figures on display we've already seen or are already released: The Alien Xenomorph, the Daimajin, Booska, Baragon, Gamera and Gyaos (whom for the longest time I foolishly confused for Rodan. Tells you how much I know about my Kaiju). Notably absent where stuff like Jack Skellington, Giant Robo, GR2 and Batman, but they had many fliers and pictures of said figures.
As you can already tell, their figure display wasn't as extensive as the Bandai booth, where they had gunpla galore and even some Tamashii stuff thrown in for good measure. The highlight though, was something Bandai never did: They had a few samples for people to check out and play with. The figures they had on display where Gamera, Gyaos, the Alien and EXTREMELY surprising: Woody and Buzz from the upcoming Toy Story releases next month.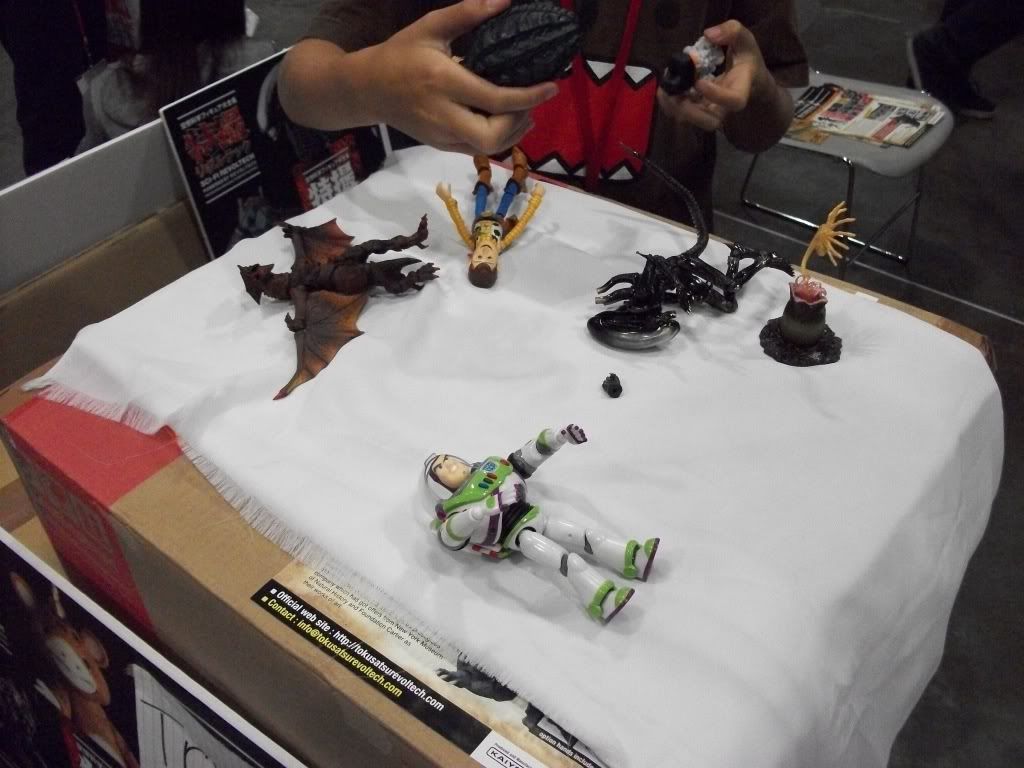 Having never fooled around with ANY of them, this was all a new experience to me, so these are all my raw thoughts of the figures as I go along: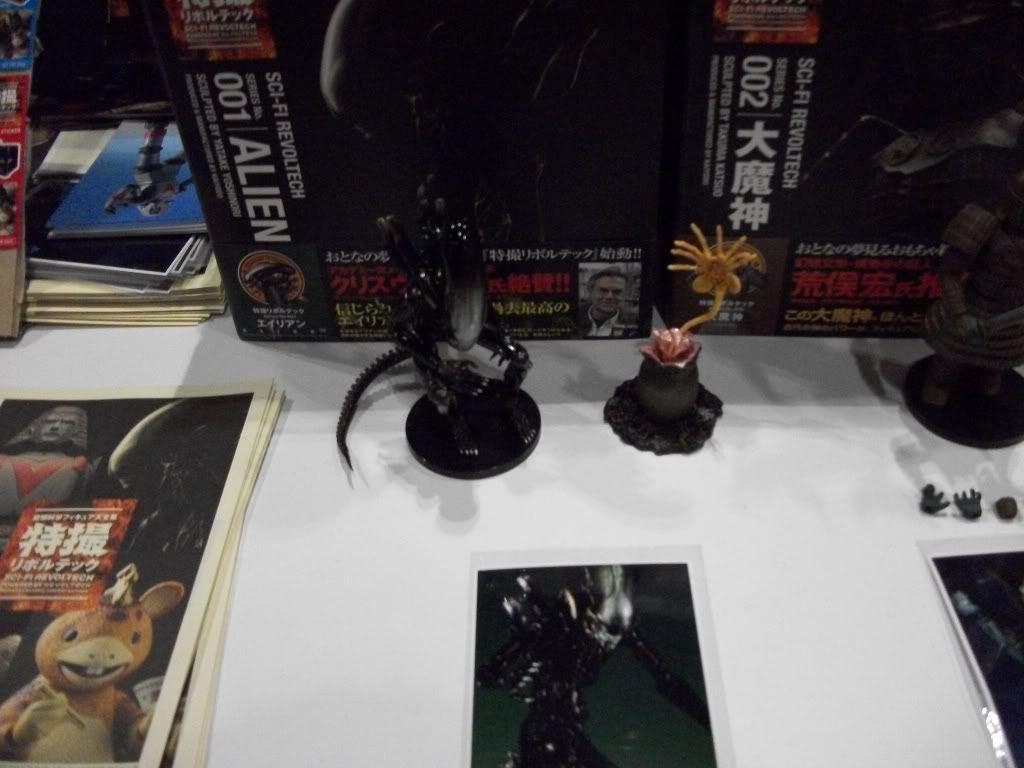 The Alien was tall, lanky and very well sculpted. My main gripe is that this is Alien 1 design, and it had all these weird things that were made of hard plastic on its back. This made it really hard to put it in that hunched over pose without doing some fiddling on the head's articulation. If they opt for a softer plastic, the figure would be a must buy, added props to the Face-hugger accessory it has, it was a really nice extra touch.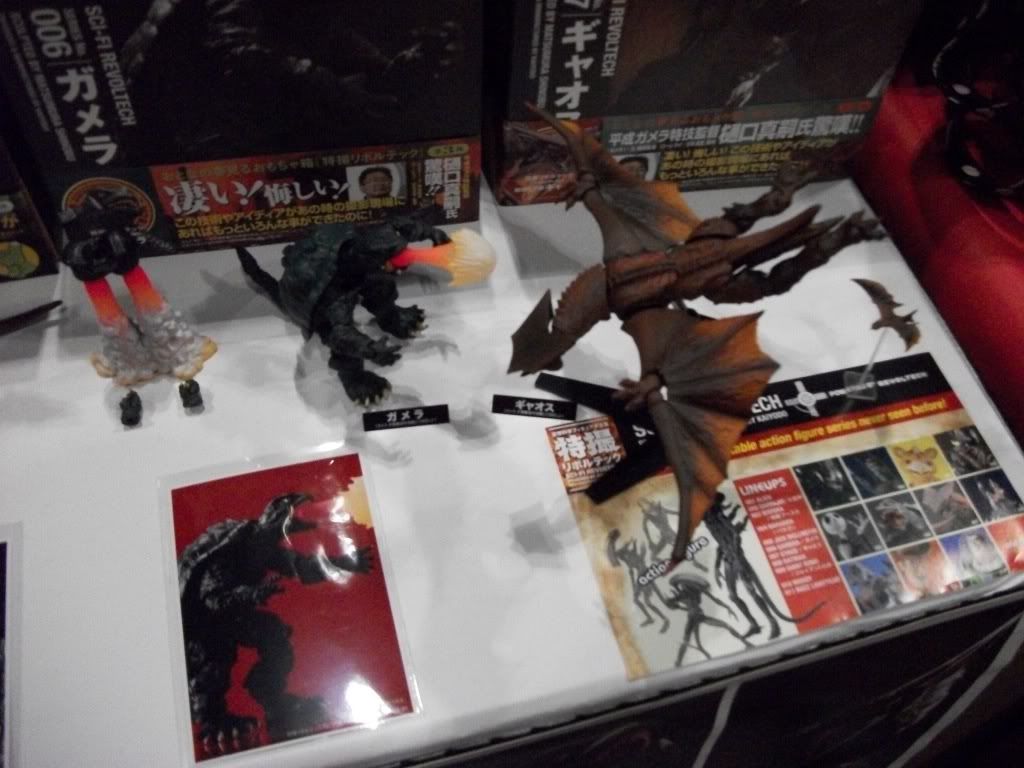 The ones that sold me where Gyaos and Gamera; Gamera had all of his extras on display: The extra hands, the fire breath, and the rocket legs, while Gyaos got bupkis. Gamera was amazingly articulated and it had a lot of character to him and you can't say no to a giant monster turtle with fire breath and rocket legs. You just fucking can't. If you do, you have no Heart. His nemesis Gyaos as just as great, doing a lot of stuff that I really liked, like realistic folding wings and some hardcore possibility. I might end up buying these guys at a later date and giving a more detailed review of the figures.
So now we're down to Woody and Buzz. Woody as you may expect was lanky,and because of this his articulation and ability to stand on his own was reduced to zero. This however does not make him a weak figure: I feel Woody was the best looking figure out of the two; the little details on him, such as the buttons, the design on his belt buckle, the design on his shirt and his vest and the way that (despite Woody being weak jointed), it makes perfect sense to have him this way thanks to his character design. Another downside was I wanted to see what other accessories Woody would come with, and how would they work. But unfortunately, all they had was the figure itself on display, same with Buzz.
Buzz is a lot more stable than Woody, but he had his own set of problems which I theorize was just heavy abuse throughout the weekend that brought it to that point. Buzz was a lot more bulky and stable, but I felt that he was a bit too top heavy, especially in the sense of revoltechs. However he stands up on his own two legs pretty well. One of the most unique things Buzz has that I've NEVER seen a revoltech have is that he has articulated hands! I was taken by surprise by this and it lets me get him into different poses without needing to switch hands. The only problem I have is that the figure's helmet did not stay inside properly, and his shoulder joints looked horrific to get him into that laser firing pose that you see in that picture. It looks like the entire shoulder joint need to almost separated from the body to get him to do that. Also I would of liked as part of the engineering to put his wings out instead of swapping pieces to give him wings.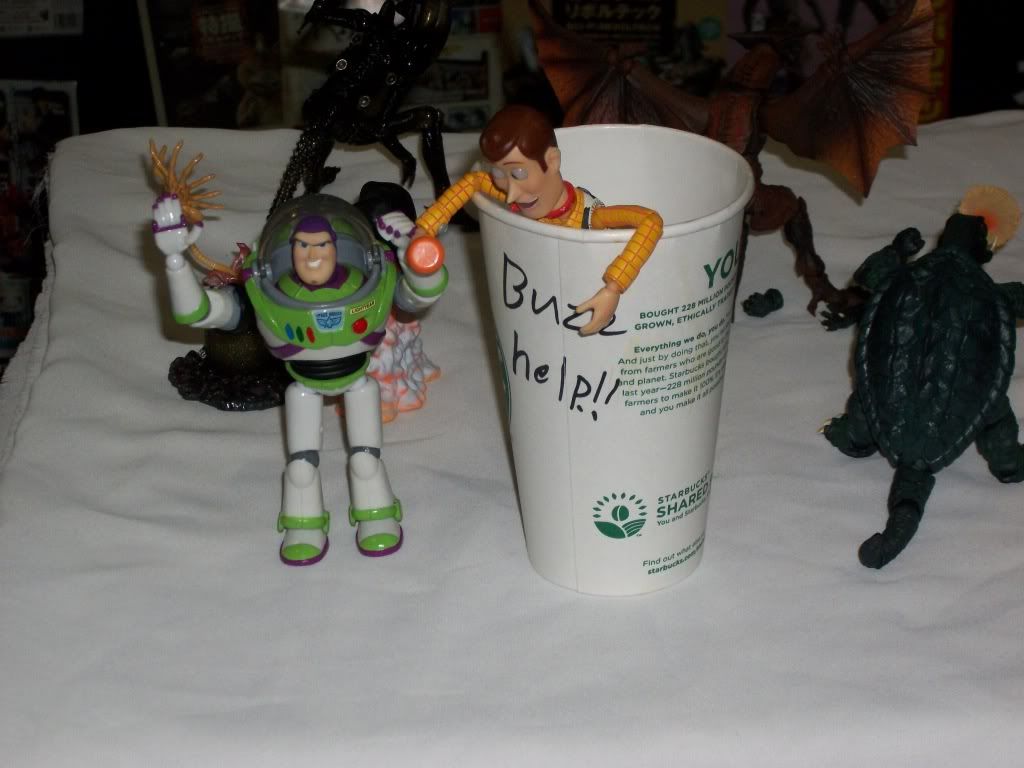 Overall, this booth was small, but it was a welcomed addition and a welcomed visit to check out all the figures on display and play around with the ones they had. I'm sure a lot of people missed it from running around AX doing different things, but for a toy fan, it was a welcome experience that really made my con experience a lot better.
Comments
comments